Bitcoin Stock Exchange Listing for Bitcoin Fund on Toronto Stock Exchange Launched by 3iQ
Bitcoin's Going Prime-time on the Toronto Stock Exchange!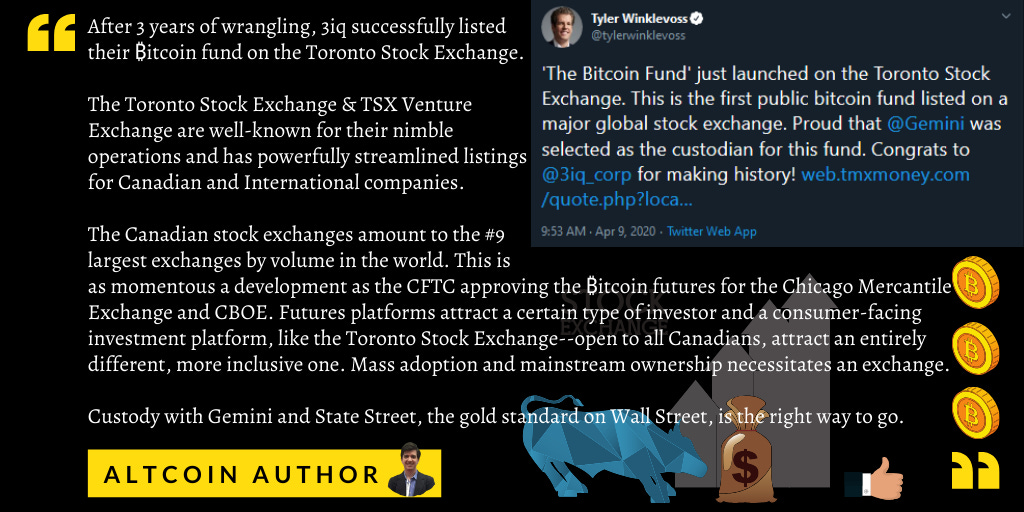 After 3 years of wrangling for a Bitcoin Stock Listing, 3iq successfully listed their Bitcoin fund on the Toronto Stock Exchange.
The Toronto Stock Exchange & TSX Venture Exchange are well-known for their nimble operations and has powerfully streamlined listings for Canadian and International companies.
The Canadian stock exchanges amount to the #9 largest exchanges by volume in the world. This is as momentous a development as the CFTC approving the Bitcoin futures for the Chicago Mercantile Exchange and CBOE. Futures platforms attract a certain type of investor and a consumer-facing investment platform, like the Toronto Stock Exchange–open to all Canadians, attract an entirely different, more inclusive one. Mass adoption and mainstream ownership necessitates an exchange.
This first bitcoin stock exchange is a huge first step for the ecosystem. Custody with Gemini and State Street, the gold standard on Wall Street, is the right way to go.